10 Steps to Lower Costs and Operational Excellence
During my career in maintenance and operations management I took on the challenge of transforming an underperforming factory to become the profit star of its group. We reduced unplanned downtime by 80%, increased output through a combination of reduced change-over times, increased operational efficiency and improved planning. We survived the busiest high season ever with record low inventory but with fully satisfied customers. And we did all that while also achieving a record period of zero lost time injuries.

This book is based on that experience and sets out an approach to operations management that not only facilitates continuous improvement but provides the framework to achieve both lower costs and operational excellence.

I hope that you too can utilize the process developed to achieve your own continuous improvement, cost reduction, and operations improvement goals.

Regards,
Phillip Slater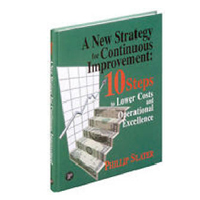 A New Strategy for Continuous Improvement, explains in detail the process that we applied to transform a 24/7 manufacturing facility. I call this process the New Operations Improvement Cycle.
Why a new cycle? We found that in practice the traditional plan-do-check-act cycle (developed nearly 100 years ago) has limitations that reduce its effectiveness.
These include that it is not instructive (it doesn't give guidance on what to do), and there is no challenge to the understanding of the implementer, meaning that you can easily go on improving the wrong processes. The New Strategy for Continuous Improvement fixes these problems using a three phase approach, involving 10 Steps.
Set out as a workbook, A New Strategy for Continuos Improvement, uses examples and case studies from my direct experience. This book will not only explain the '10 Steps' approach but will demonstrate how and why this approach is an improvement on past practices.
From this book you will learn:
A process and framework for achieving lower costs and operational excellence
The 8 reasons why operations improvement efforts fail
How to apply the New Operations Improvement Cycle
From real life examples (there are 20 case studies) exactly how to apply each of the 10 steps
47 specific 'must do' actions for success
42 mistakes that people make
The process for implementation
The signposts for failure
Although this is a book that an individual can read and benefit from, its greatest value can be derived (in my opinion) only if several members of a team read it, complete the exercises, and then share their responses. The ultimate objective should be a single document that can then serve as a game plan when the team proceeds to implementation.
Robert Morris
Amazon Hall of Fame Book Reviewer
Drawing on extensive international experience in business improvement, Slater presents his "10 Steps" process that focuses on good practices..
Book News Inc.
Portland, OR
When you read this book you are almost certain to come up with at least one good idea which when applied helps improve some aspect of your business. Perhaps you can implement the entire concept of continually reviewing your operations to find more areas to improve.
John Matlock
Winnemucca, NV
Purchase the book in hardcover or Kindle format at:
Purchase hard copy and other ebook formats at: