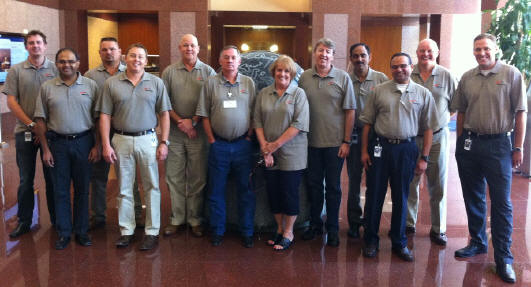 ---
Consulting: Inventory Management Snapshot Review
The issue that prevents most organizations from achieving their goals is that they cannot identify the constraints that limit their progress. Identifying and removing the constraints frees the organization to implement its plans.
Applying a process known as a Snapshot Review, Phillip's inventory management consulting services will identify the constraints that limit your ability too achieve your spare parts management goals. This is achieved through an independent and objective assessment of your current spare parts management processes and future plans.
To get a thorough understanding of your specific situation, Phillip's Snapshot process involves a combination of interviews, analysis of data, site visits, application of Phillip's exclusive Best Practice Matrix, and key data benchmarking.
The process is flexible enough to be tailored to your specific issues. The output from any Snapshot Review is the identification of the 5-6 high priority issues that you need to address and the high-impact actions that will most quickly and effectively lead you to achieving your spare parts management goals. The output will include a tailored 'roadmap' for your success.
Typically, this program takes 4-6 weeks to complete.
---
Development of Spare Parts Management Guidelines and Policies
The only way to ensure consistent decision making and prevent the future accumulation of excess inventory is to provide effective guidelines and policies for decision making. This helps to ensure that your approach to decision making is consistent with your overall objectives. Phillip will personally work with you and your team, providing pre-training analysis, a 5 day on-site training program and workshop activity, and post workshop follow up.
The output is a complete suite of spare parts inventory management policies tailored for your specific and unique needs.
Typically this program takes 4-6 weeks to complete.
---
Spare Parts Inventory Optimization Programs
On Site
Phillip's Inventory Optimization Program is unique because it not only helps your team identify and address the inventory that can be reduced today but it also implements the policies and guidelines to ensure that nobody makes the same mistakes in the future.
This is achieved through a two-part process:
1. Training and Application: Phillip will train your team in the Inventory Cash Release® Process and supervise their application of the process with your inventory. This is where they make major inroads into achieving the target inventory reduction. Typically this involves: a pre-training review, a five-day on-site program, and 12 weeks of post-training implementation support.
2. Policy Development: In order to ensure that future inventory stocking decisions are appropriate for the needs of the organization, and don't just put back everything just removed, your team develops guidelines and policies to help 'future proof' your inventory decision making.
This hands-on approach ensures that your team 'owns the outcomes' and results in a genuine skills transfer that leaves them with the skills, knowledge, and confidence to continue using the techniques, without further assistance.
During the program there is monthly reporting, feedback on progress, and team access to the online resources at SparePartsKnowHow.com.
An inventory optimization program typically requires 16 weeks to complete.

On-Line
Our Quick Reduction Strategy (QRS) Program is much more than a training course. The goal of this program is for you to achieve a significant reduction in your spare parts inventory holdings – in just 12 weeks!
But this is not a 'slash and burn' program. The results will be genuine, maintenance friendly, inventory reductions and lasting procurement savings. This is achieved without any additional software by applying our exclusive Quick Reduction Strategy (QRS) process.
The QRS was developed for spare parts inventory review situations where the options for reduction opportunity are limited – and where quick results are needed.
This is a tried and tested approach that is backed up by past results from application in storerooms from North America to Asia and beyond.
This program is delivered with live online sessions.
Read more at the SparePartsKnowHow.com website

---
The success of these programs can be seen from our case studies and testimonials.
If you have something else in mind, other than that outlined above, feel free to contact us.