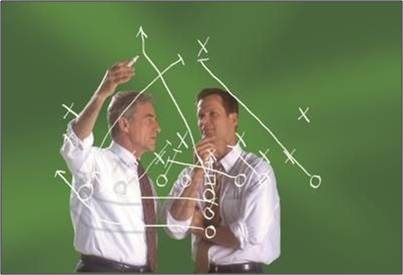 Why is it that some companies struggle with achieving their spare parts inventory management goals while others go on to not only achieve but exceed their expectations?
The answer lays in understanding the building blocks required to shift to what we call Next Generation Spare Parts Management.
Almost everyone understands that reaching the next level does not occur from working harder, it requires a change in the way you work. Yet few companies achieve more than marginal benefits.
Our research and experience has identified that achieving next generation spare parts management requires that you:
Establish the building blocks for Next Generation Spare Parts Management
Choose an implementation path that suits your company
The Building Blocks of Next Generation Spare Parts Management
There are three essential building blocks for achieving next generation spare parts inventory management:
Engage representatives of all participants in the spare parts management process
Leverage your existing technology and systems
Create a management system that provides clear strategies, process, and goals for everyone involved in spare parts, throughout the organization
Implementation Paths for Next Generation Inventory Management
There is no single path for achieving Next Generation Spare Parts Management. The 'correct' path depends on your current skills and know-how, time frame for achievement of goals, the degree of C-suite executive commitment, and the financial pressure. For all practical purposes there are three possible pathways:
1. Pilot Program: Identify a suitable single site or cluster of sites and empower them to identify and make the necessary changes. Once their success is recognized and there is a reason to 'trust' the new approach, this will create the momentum to spread the 'Next Generation' approach to other locations.
2. Full Scale Roll Out: Developing and applying a new approach across all locations at the same time takes much more resource but can have the advantage that company-wide results can be achieved more quickly.
3. Central Innovation: When a team exists that already has a centralized responsibility for spare parts management, they need to be 'on board' with the program and so starting with that team can be appropriate. Care needs to be taken that this team is not isolated from other parties involved in the process.
Low Cost, No-Regret Actions for Next Generation Inventory Management
No matter which pathway you take, there are some low cost, no-regret actions that you can take right now to help you establish your priorities and begin establishing your building blocks:
Develop a clear statement on what you want to achieve. Here is an example:

[company] manages its spare parts inventory levels by measuring inventory management efficiency and effectiveness, and setting goals against clearly defined targets. The goal is to optimize the spare parts inventory levels while maintaining appropriate levels of service to operational activities.

Challenge the C-suite executives on their understanding of the importance of spare parts management as a stand-alone discipline and their support for improvement.
Build a belief in the possibility of achieving change through case studies and research of others' journeys.
Apply the SparePartsKnowHow.com self-assessment tool to determine your organization's maturity on the 'Stages of Excellence' scale.
Invest in capability building through the online training at SparePartsKnowHow.com (it is easier to learn from others than to 'reinvent the wheel' yourself).
Based on this new level of understanding, reassess the level of change required and that the organization is prepared to undertake.
Most companies that are dissatisfied with their spare parts management outcomes recognize that a Next Generation approach can deliver the change that they need.
However, many of those companies will also not realize that achieving their goals requires resources and a skill set outside of their current capability. Those that do recognize this are able to reinvent their spare parts management rather than spend their time and resources achieving marginal results.
Read How You Can Work With Phillip