Subject Area: Spare Parts Inventory Reduction & Optimization
A program for inventory optimization and cost reduction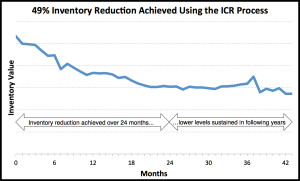 Our Spare Parts Inventory Reduction and Optimization programs are action oriented. This is not just training, it is a project aimed at delivering a specific outcome: an operationally sustainable inventory reduction.



This program delivers superior results because it involves your team in learning new skills and taking ownership of the actions.

---
This Program Involves a Three-part Process
---

This is NOT just a training course.
This is a change program that requires active engagement and implementation from team members, not just passive training attendance.
1. Mobilization
Identify 'project champion'
Identify and advise participants (up to 20)
Identify champions for implementation
Agree timing of training and workshops (next step)
Snapshot Review used as basis of workshop preparation
Establish baseline inventory value
This step is completed remotely.
2. Inventory Optimization Training and Policy Development
Note that this stage can be completed either on-site at your premises or remotely online using online training and web sessions.
Training and Development Workshops
– Pre-training visit to site (when this stage completed on-site)
– Multi-day spare parts management training with focus on the inventory review process
– Multi-day policy development workshop

Through this process we set follow-up tasks, program timing, and reporting expectations
Policy Development: During the training portion of the program your team develops guidelines and policies to help 'future proof' your inventory decision making. Together, we then develop those guidelines into draft policies for your leadership approval. Our policy templates are used as basis for creating and refining policies
3. Process Application and Support
Following the training, your team applies the inventory review process to your inventory with Phillip's supervision. This is where they make major inroads into achieving the target inventory reduction.
Team applies inventory review process to current inventory, under guidance
Mentoring, coaching, and guidance provided through regular online meetings
Progress measured against baseline and reported monthly to project sponsor
Monthly online meetings involving all team members
Lessons captured and shared
20 participants given access to SparePartsKnowHow.com for continuous skills development
Simultaneously, policies are finalized for corporate approval
Policy roll-out plan and training determined
This hands-on approach ensures that your team 'owns the outcomes' and results in a genuine skills transfer that leaves them with the skills, knowledge, and confidence to continue using the techniques, without further assistance.

This is the process for an on-site program
---
What Results Can You Expect?
---

On average, this program achieves a 37% reduction in spare parts inventory.

---
How Long Does a Spare Parts Inventory Reduction & Optimization Program Take?
---

A Spare Parts Inventory Reduction & Optimization Program delivered with onsite training typically requires 17 weeks to complete. Remote (online) delivery requires an additional 3-4 weeks.
However, your team can then continue applying the process and know-how on an ongoing basis.
That's how this process and your team can deliver results like this: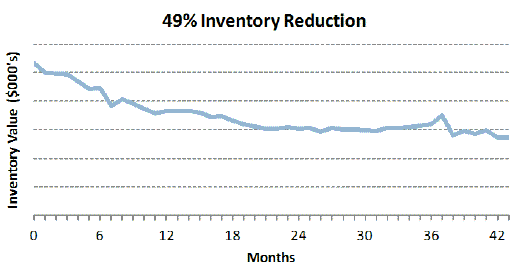 Contact us to find out more about this service and the applicability to your situation.

---
A multi-million dollar reduction in inventory was achieved without impact on availability and at the same time 'best in class' processes were established to ensure that this benefit is held into the future.

I would recommend Phillip Slater to anyone looking to achieve genuine, and lasting, inventory reduction results.
Kerrin Thomson
Supply Director
SCA Australasia

---
---