2. You Will Need to Hold Items That Will Not Move Often (If at All)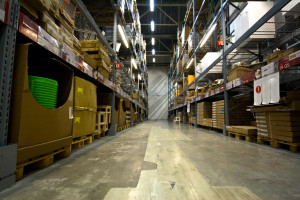 If you ran your spare parts warehouse using the retail type model you would quickly find yourself with major shortages and extended downtime.
Continuing this series on 7 Things That Every Senior Manager and CFO Should Know About Spare Parts Management this post addresses part 2: You Will Need to Hold Items That Will Not Move Often (If at All).
One Big Mistake in Spare Parts Inventory Management
The most obvious difference between the standard approach to supply chain and inventory management (based on a retail and wholesale inventory management model) and spare parts inventory management is that with spare parts you will deliberately stock items that you don't want to use. This is one aspect of spare parts inventory management that most senior managers and CFO's don't immediately appreciate. And this is why they will direct teams to 'review the items that don't move' – which is a big mistake
The items that do not move often (or at all) are typically the insurance spares that companies hold, literally, 'just in case'. Insurance spares are the high-value, long-lead-time items where, if the spare was not available, operations/production would stop BUT that you don't really expect to use in the lifetime of the equipment.