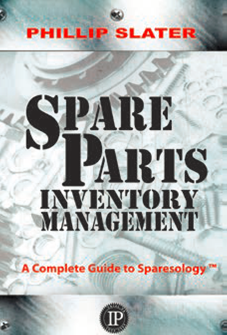 How refreshing that I had found someone with deep experience and a desire to help
Spare Parts Inventory Management – The Book is Applicable to Any Size Organization
Phillip Slater has a gift of making unfamiliar subjects seem less intimidating. Such is the case with this latest book wherein he lays out the need for properly addressing industrial spare parts and the steps to thoughtfully control the processes and procedures to manage them. The approach outlined in this text is applicable to any size organization and in any industry.
Specific Guidance to Properly Address Spare Parts Management
Spare Parts Inventory Management – A Complete Guide to Sparesology is as timely as it is useful and is the natural addition to his earlier publications. You will find, as I did, Phillip tackles the big problems with attention to detail without getting into the mind-numbing minutia of how things could be done. Along with the high-level concepts, he outlines specific guidance to properly address each aspect of spare parts management. For example, beginning with what to stock to ending with obsolescence and disposal which effectively empowers one to dismiss the perception of need for "just in case" spare parts.
 
What is at stake is the success of the corporate entity and not just of a department or individual.
Phillip Doesn't Gloss Over Anything
Leaving buzzwords and ethereal concepts aside, this is a "dirt under the nails" guide that translates just as well in the boardroom as well as the parts storage cribs. Phillip doesn't gloss over anything. He brings the reader into understanding of not only what to do, but also "why" we do these things. "Your management systems either are designed or evolve randomly" states the seemingly obvious point often missed.
Real World Experience
He simply sticks with proven systems and best practices born out of real-world experience.
Phillip outlines the four key-aspects to this book and each one is equally important. Many organizations don't understand the need to manage spare parts until something affects the bottom line then, it is 'all hands on deck'.
 
That is where this guide comes in… 
Russ Thompson
M3 ERP Functional Consultant
Avaap uSA Inc.
Check out Russ Thompson on LinkedIn

Read another review.


---

Purchase the book in hard copy or kindle format at:
Purchase hard copy and other ebook formats at:
---