Spare Parts Inventory Management – A Complete Guide to Sparesology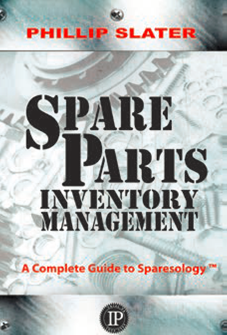 Great Follow Up to Phillip's Previous Books
Easy to read, easy to apply
With a clear, easy to read, style Phillip Slater's book, Spare Parts Inventory Management, charts the key lessons and synthetizes the key ideas to consider for every part of a spare parts optimization process. The book provides best practices, plus charts and matrixes that are valuable aids and that transform the book into a road map. The author insists that the lack of a consistent spare parts policy is a major problem in most companies and proposes a practical approach, including the financial considerations, and how to use a language that your CEO will understand.
Analyze the whole spare parts life cycle
In addition, the book includes all phases of the spare parts management life cycle, from the creation of the stock to the disposal of non-used parts. The book provides a whole vision for the spare parts management problem to help analyze pros and cons, and understand the consequences of every decision. A highlight is the part about obsolescence and disposal, a part of spare parts management that is not usually analyzed.
Engineering applied to spare parts management
Based on my experience, the main problem with most spare parts management is the use of ad hoc and emotional principles that are not able to ensure right results. This book proposes that you apply engineering questioning, and avoid the most widely accepted methods, to obtain the best solution, measured financially, for every spare part inventory situation.
Jorge Asiain
Senior Consultant AlterEvo Ltd.
Lecturer of Mechanical Engineering – Universidad Europea.
www.alterevo.es
https://uk.linkedin.com/in/jorgeasiain
Read More About The Book Spare Parts Inventory Management

Read another review.

---

Purchase the book in hard copy or kindle format at:
Purchase hard copy and other ebook formats at:
---