Spare Parts Inventory Management – A Complete Guide to Sparesology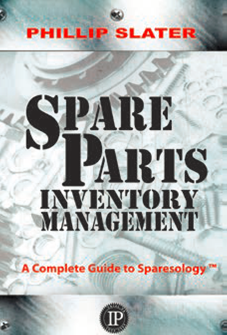 Phillip Slater's book, Spare Parts Inventory Management, is a fantastic guide for anyone interested in having a successful spare parts inventory management system.
Right from the beginning, I knew this would be a good read
I found the section, "Five common supply chain techniques that you should not use for spare parts management" particularly insightful. This section helps the reader avoid the misapplication of commonly used terms and techniques right from the beginning. The author starts the journey by describing the potential landmines that can sink a spare parts inventory management system at its onset to clear the path for success.
Useful Concepts, Examples, and Guidelines
Another particularly useful concept was the identification of silos and different perspectives regarding the financial impact of spare parts. A dive into the delicate balance of all the key players and their own "silo" perspectives and agendas helps the reader to understand the ever-ongoing battle between the thought that spare parts "cost money" and that downtime is a deadly cost that should be avoided at all costs. A number of examples and simple calculations of cost afford the reader some great fundamental guidelines from which to make decisions regarding costs of inventory.
Innovative Concepts on Spare Parts Inventory Management
Some innovative concepts such as inventory "prevention", "timing" as it applies to many generally accepted principles, and many visual matrices to translate complex concepts into easily understood visual references are also introduced. Every aspect of spare parts management, cradle-to-grave, including obsolescence and disposal is addressed. And as a bonus, the difference between policies and procedures is discussed, as well as highly valuable and specific guidelines on how to write policies and procedures is included. Numbering and naming conventions are also discussed as fundamental cornerstones to a well-designed system.
This book is an easy to read and easy to understand guide to understanding the human factors (trust) that impact a system, as well as no nonsense techniques to applying data based decision making in the establishment of a robust spare parts inventory management system. It combines content you might find in several different texts into a well-organized and easy to use reference guide that deals with everything from clean sheet design of a system to best practices and continual improvement for mature systems.
Marnie Schmidt
Author of "Tribal Knowledge – The Practical Use of ISO, Lean and Six Sigma Together"
MarnieSchmidt.com

Read another review.


---

Purchase the book in hard copy or kindle format at:
Purchase hard copy and other ebook formats at:
---