Spare Parts Inventory Management – A Complete Guide to Sparesology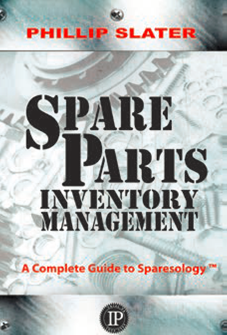 Provides Practical Guidance
It's Like Phillip is Coaching You One-on-One
Phillip Slater's latest book Spare Parts Inventory Management continues his unique and engaging writing style.  Phillip draws on his decades of experience in spare parts management and delivers a book that is pleasantly conversational, as if I am sitting across the table from him and he is coaching me one-on-one.  His book is also unique as it addresses the full life cycle of spares, from initial requirements forecasting through to use and final disposal.
Clearly Shows the Unique Nature of Spare Parts Management
Phillip clearly shows the unique nature of spare parts management versus other types of inventory – distinctions that require different considerations in planning and control. In easy to understand terms, Phillip dispels the myths associated with spares and provides practical guidance on critical spare parts policies and best practices that favorably impact the bottom line. 
Belongs on the Shelf or Every Spare Parts Organization
Spare Parts Inventory Management is practitioner oriented and belongs on the shelf in every spare parts organization. I definitely would recommend Phillip's book to my clients and students.
Dr. Patricia Murrin
A.P. Murrin and Associates-Supply Chain Management
Department Chair, The National Graduate School of Quality Management
Adjunct Faculty, Walden University
Adjunct Faculty, Northwood University
View Patricia's LinkedIn Profile

Read another review.

---

Purchase the book in hard copy or kindle format at:
Purchase hard copy and other ebook formats at:
---