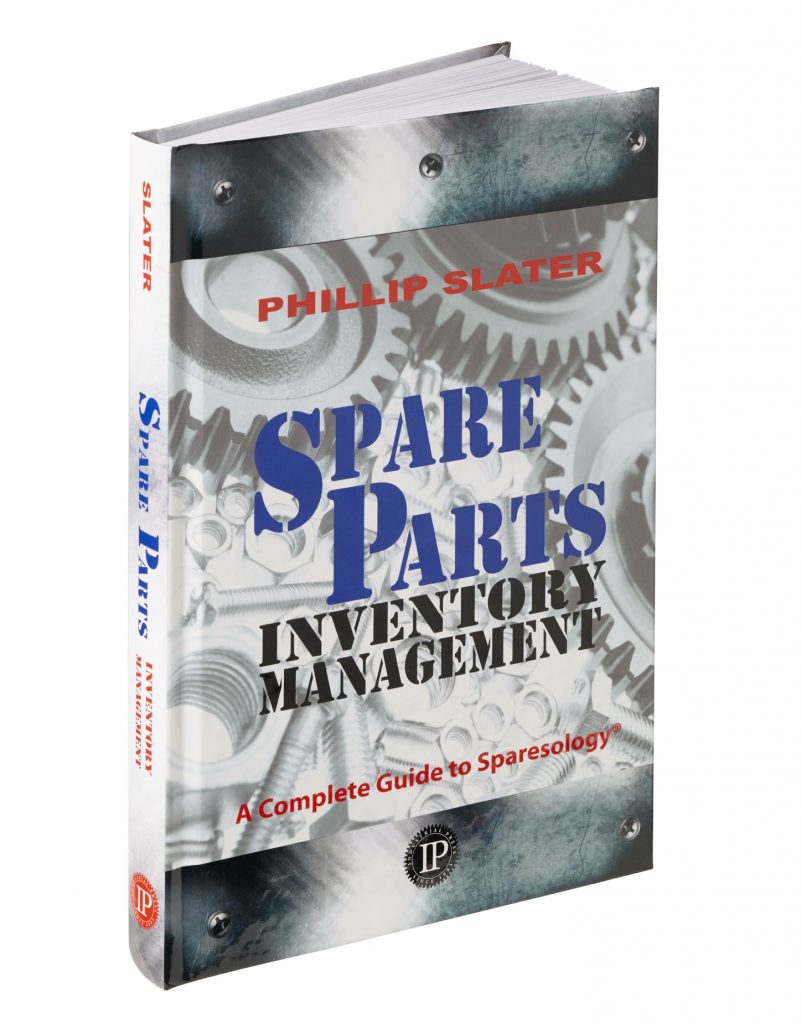 ---
A Complete Guide to Sparesology®
---
This new book by Phillip Slater, Spare Parts Inventory Management, addresses the key matters faced during the life cycle of spare parts inventory.
This is described by the word Sparesology® – a short-cut term for the discipline of optimizing the physical, financial, process, and human resource management of spare parts.
Spare Parts Inventory Management is a 'how-to' book that explains the issues and provides guidance on what to do.
Spare Parts Inventory Management starts with addressing how to establish a system for spare parts management and explains the key best practices that make a real difference to spare parts inventory outcomes.
The book then moves through the spare parts life cycle:
Advising on how to determine what to stock and how many to stock
Determining spare parts criticality
Determining the capital equipment first-time-buy
Explaining the different approaches to inventory optimization
Addressing the key factors in storeroom management such as physical processes, bar coding, data management and accuracy
Integrating maintenance and spare parts planning
Obsolescence and disposal
This book provides guidance and advice on all of the above.
Ultimately the goal of any spare parts management system is to ensure a reliable supply of quality spare parts, without excessive costs.
Spare Parts Inventory Management, A Complete Guide to Sparesology® is written to provide the guidance required to do just that.

Read a transcript of an interview with Phillip Slater about the book Spare Parts Inventory Management
Access a video series explaining the content of the book.

---
Spare Parts Inventory Management – Recognition and Reviews
---
Spare Parts Inventory Management achievements at Amazon.com:
#1 Best Seller in Business Facility Management
#1 New Release in Business Facility Management
#1 Hot New Release in Business Management
#1 New Release in Industrial Engineering
#1 New Release in Production and Operations
#1 Book in Facility Management
This book is a fantastic guide for anyone interested in having a successful spare parts management system
Marnie Schmidt
Author of "Tribal Knowledge – The Practical Use of ISO, Lean and Six Sigma Together"
Read the full review >>>

How refreshing that I had found someone with deep experience and a desire to help
Russ Thompson
M3 ERP Functional Consultant, Avaap USA Inc.
Read the full review >>>

Great follow up to Phillip's previous books
Jorge Asiain
Senior Consultant AlterEvo Ltd.
Lecturer of Mechanical Engineering – Universidad Europea.
Read the full review >>>

Belongs on the shelf of every spare parts organization
Dr. Patricia Murrin
A.P. Murrin and Associates-Supply Chain Management
Department Chair, The National Graduate School of Quality Management
Adjunct Faculty, Walden University
Adjunct Faculty, Northwood University
Read the full review >>>

Phillip's book is very complete, broad, clear, practically applicable, comprehensible and well supported
Jürgen Donders
Partner
Gordian Logistic Experts
www.gordian.nl
Read the full review >>>
Thanks to this book my job is now made easier
Ilyas Ateiza
Stores Manager – Engineering
APM Terminals
Read the full review >>>
---
Purchase the book in hard copy or kindle format at:
Purchase hard copy and other ebook formats at:
---